SERBIAN CHAIRMANSHIP OF THE OSCE 2015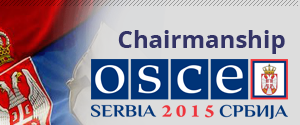 Final address by His Excellency Mr. Ivica Dačić, former Chairperson-in-Office of the OSCE, First Deputy Prime Minister and Minister of Foreign Affairs of the Republic of Serbia at the OSCE Ministerial Council Meeting - Belgrade, 04 December 2015
Dear visitors,
It is my pleasure to welcome you to the website of the Permanent Mission of the Republic of Serbia to the Organization for Security and Co-operation in Europe (OSCE) and other international organizations in Vienna.
Our task is to present and promote the interests of the Republic of Serbia in the OSCE and other international organizations including the United Nations Office in Vienna, International Atomic Energy Agency (IAEA), UNIDO, Preparatory Commission for the Comprehensive Nuclear-Test-Ban Treaty Organization (CTBTO) and other.
After a successful Chairmanship of the OSCE in 2015, as a member of the OSCE Troika (Serbia, Germany, Austria) and as the Chairmanship of the Contact Group for Cooperation with the OSCE Asian Partners, we will continue with our active participation in the Organization.

On this website, you will be able to find important information regarding our activities.
On our part, we will be ready to answer all the questions concerning our work in Vienna.
Thank you for your kind interest.
Ambassador
Roksanda Ninčić
Head of the Permanent Mission and
Permanent Representative of the Republic of Serbia